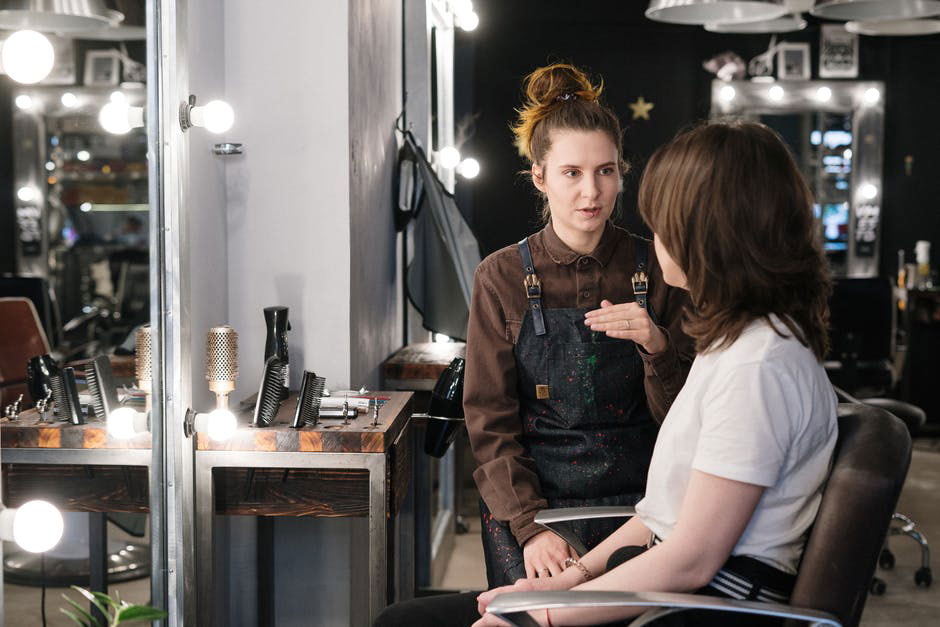 What is Balayage? This North Vancouver Hair Salon Has the Answer
Did you know that 1 in 3 women started experimenting with their hair colour during the pandemic? If you're looking to get a nice new hairdo, consider getting a balayage! 
This lightening technique has been taking the world by storm and for good reason. Even our North Vancouver hair salon offers it, but don't let that alone convince you.
The benefits of opting for balayage over alternative methods are many. It looks more natural, lasts longer, and provides that elusive sun-kissed glow everyone is after. Balayage also offers more flexibility and a less predictable look than traditional highlights. 
It's the look that brings out your inner deity and makes people do a double-take. Balayage is also guaranteed to provide a look which is as unique and deep as you are, every time.
For the full guide to balayage, what it is, and if you should consider getting one, read on. With all the compliments you're sure to get, your hair and you will thank us.
Introducing Balayage
So, what even is a balayage? Contrary to popular belief, a balayage has nothing to do with a particular look. It isn't a perm or a style, but a technique.
It comes from the French term "to sweep", and that is exactly what the technique does. It applies colour and highlights by hand, without the use of foil. You sweep or paint the surface of your hair relatively randomly.
This avoids repetitive or basic patterns that using foil would create. If done well like at our hair salon located in Capilano Mall, North Vancouver, then your hair will look beautiful and have natural depth. The end result of balayage creates a look that you can't get with traditional methods.
One of the best things about a balayage is that it blends with your hair as it grows. If you like getting your hair colored, this will prevent any harsh lines between your natural hair and the colored part. 
How Does Balayage Work, Exactly?
It would be worth going into exactly how a hair salon would do balayage. The technique starts with what exactly you want the overall effect to be. It is possible to get a full balayage or only a partial one.
The impact can also be loud and noticeable, or exquisite and subtle. In any case it beings with the midshaft of your hair. 
Typically the hair dresser will paint a lightener or some sort of chosen dye onto the midshaft. It will start somewhat subtle and light, and get stronger near the ends. The goal is to create depth like you would with highlights.
The key is in the randomness. Instead of wrapping all of your hair in foil, the hairs are hand dyed  at a surface level. You would think this introduces imperfections, but that's actually the point.
The fact that your hair won't look uniform is the purpose of balayage. You want to create exciting depth and a range of natural-looking shades. Your hair isn't the same length or thickness throughout.
Because your hair is so variable, the manual technique of Balayage will create a much more organic look. 
Full vs. Partial Balayage
As mentioned earlier, you can choose the degree of balayage you want. In a traditional full balayage, your entire head of hair can look lighter. The variation will still be there, but it would be a bit lighter than before all throughout.
An alternative approach is a partial balayage. A partial balayage can be as small or sectional as you want. Some people only get balayage on their bangs or fringe, others only go for the ends to create a gradient effect. 
At the end of the day, the choice is yours. When you go for either a full or partial balayage, you can rest easy knowing you'll look natural and fabulous. 
You don't even have to worry about your roots growing out with a full balayage. This is because the technique only makes your hair a little lighter compared to your base colour. As your roots grow out, the natural blend of the balayage will hide them.
Since the colours are so similar and natural, no one will be able to tell where your base colour ends and the new one begin. 
Balayage vs. Highlights
So we've talked a lot about hair colour and the highlight effect, but what is the difference? As mentioned above the traditional way of achieving a lighter effect is through the use of foil. This is the usual way highlighting gets done, including in our North Vancouver hair salon. 
Highlights are the main competing option to balayage. 
When it comes to highlights you start with aluminum foil. You dye the hair with a lightener and wrap the individual strands with this foil. The foil helps to concentrate the dye to make sure you get the full effect from the root to the tip of your hair.
However, this is a very labour-intensive process. This goes for both the pros at the salon and for you when you do maintenance after the fact. First of all you need to expertly pick and weave the hair strands you want.
Remember that when you go for a highlight you want depth. You don't want every strand to be identical. What the salon does is pick and choose which strands to dye and which ones to leave.
If they do their job the right way, the end result will be a gorgeous layering of lighter and natural hair. Here is where the problems start, however.
The Problems with Highlights
Highlights can be great, don't get us wrong, but they can also be one-dimensional. A good highlight job will provide good depth and layering, but it can't escape one reality. This is that the end result will still produce a somewhat even pattern within that layer.
What do we mean by this? We mean that every strand that gets dyed will be uniform from the tip to the root. You can try to use different shades to add even more depth than usual, but this takes work and is still noticeable. 
Also, at some point, you've gone so far in customizing the highlight job, that you might as well do balayage. By getting a balayage, you won't have to figure out how to hide your roots when they start to grow out. 
Deciding to go with highlights is a stylistic choice, especially if you like the contrast. Highlights are also good for those who want something a little more symmetrical in depth. What highlights are not ideal for, however, is creating the most natural look.
The Great Thing about Balayage
When it comes to a natural do with depth, balayage is the clear winner. It is easy to customize, and the only limit is the skill of the salon you work with. The randomness and manual touch create a hairdo that looks as great as you'll feel. 
When people talk about balayage they often call it the sun-kissed effect. This is because the technique doesn't create a sharp contrast via highlights. Instead, it brings out the natural shine within your own hair, as if you were sparkling in a ray of sunshine. 
It isn't flashy or in your face, but it isn't meant to be. Balayage is for those who want a more subtle and less dramatic colour gradient or fade. It's for those who want to be able to say "oh this? It's my natural hair!" without sounding pretentious. 
You also don't have to go back to the salon after a month or two to get a balayage touched up. As your roots grow out, it won't disrupt the blended effect for many many months. 
An Important Note about Hair Health
Whether you get a balayage, highlights, or something else entirely, one thing is for sure. You still have to take care of your hair. Yes, it's true that with a balayage you don't have to come running back to the salon.
That said, you still need to care for your hair, roots and all. The ultimate key to the best do is having a healthy scalp and head of hair. Going to your favourite salon on the regular can help a ton.
Using the right hair care products at home is also a biggie. The last thing you want is to get a balayage and have your stunning new look ruined by dry and damaged hair. Keep up with your maintenance - your hair will thank you!
Get Balayage at Our North Vancouver Hair Salon 
There are many reasons to visit our North Vancouver hair salon, and getting a balayage is only one of them. This technique goes beyond mere highlights and brings out the inner sun-kissed deity in all of us. Balayage creates a sort of natural depth and unique beauty that is almost impossible to replicate otherwise.
When you visit us at Sassy Hair in Capilano Mall, you can see how game-changing it is for yourself. If balayage isn't your cup of tea, we're equally skilled in everything else, so there's no reason to be shy. To take your hair to the next level and see what we can do, don't forget to contact us today to book an appointment.